"XBeach X" (10th Year Anniversary) Free User Conference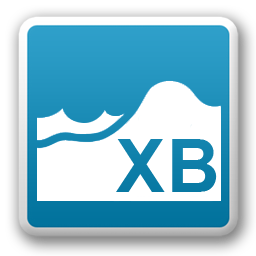 Date
Wednesday, 01 November
-
Friday, 03 November
Venue
Boussinesqweg
2629 Delft, Netherlands

XBeach, the open-source nearshore morphodynamic software, developed by IHE Delft, Deltares and TU Delft, was presented for the first time 10 years ago.
We would like to celebrate this anniversary with a free user conference on XBeach model development and application on the world's coasts, as well as on morphodynamic modelling in general.
This free event will be held during the Delft Software Days at Deltares in Delft from Wednesday 1 November – Friday 3 November, with kind sponsoring from the Netherlands Centre for Coastal Research (NCK) and Deltares.
If you are interested to attend, you can register and book accommodations (at your own expense) through the DelftSoftwareDays2017 website.
Calls for abstracts – submit your PDF one-page abstract by This email address is being protected from spambots. You need JavaScript enabled to view it. by 1 September 2017 using

this template. We will notify you of acceptance by 15 September. On your abstract please indicate one or more of the following topics:
- Processes:
Hydrodynamics (wave transformation, rip currents, circulation, runup, flooding, groundwater flow)
Morphodynamics (storm-induced erosion, bar migration, longshore transports)
- Environment:
Sandy coasts, dunes and shorelines
Coral, gravel and rocky coasts and shorelines
Vegetated coasts and shorelines
Ports, waterways and ships (interaction with structures, ship-induced waves)
Other
- Numerics and validation:
Numerical methods
Boundary conditions
Coupling to other models
Field and lab observations for validation
Talks on modelling approaches other than XBeach are very much welcome! Contributions from MSc and PhD students are encouraged.
We hope to see you in Delft!
Ap van Dongeren, Deltares
Dano Roelvink, IHE Delft/Deltares
Co-organizers.
Sponsored by:
All Dates
From

Wednesday, 01 November

to

Friday, 03 November