NCK days 2018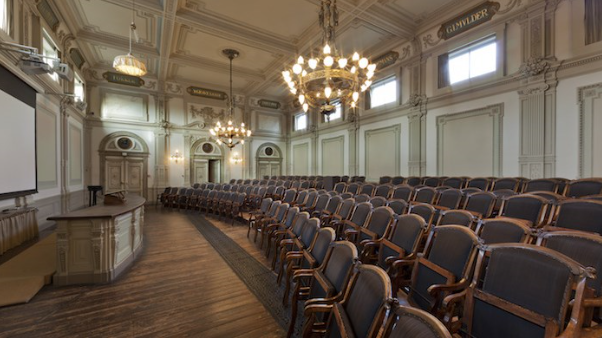 Date
Wednesday, 21 March
-
Friday, 23 March
Venue
Teylers Museum - Spaarne 16
2011 CH Haarlem, Netherlands

The annual NCK Conference will be held from Wednesday to Friday March 21-23, 2018 at Teylers Museum in Haarlem, the Netherlands. The 2018 NCK Days will be hosted by TNO - Geological Survey of the Netherlands as part of its 100-year mapping anniversary. The theme of the meeting is 'Geo-logic in coastal and shelf research: a matter of multi-disciplinarity'.
Abstracts
We invite you to submit an abstract. Abstracts should be written in

this format and be submitted before Wednesday February 7, 2018 to This email address is being protected from spambots. You need JavaScript enabled to view it.. This year's conference organisers specifically welcome abstracts on the following themes (in alphabetical order):
Abiotic-biotic relationships
Long-term coastal behavior
Monitoring and understanding the shoreface
Seabed mapping, modeling and management
Spatial patterns and self-organization
Thresholds and feedback mechanisms
There are time slots for 35-40 oral presentations of 10 minutes each, primarily for young researchers. Questions from the audience will be answered during a dedicated time slot at the end of each session. There will be separate a Thursday and a Friday poster session, each preceded by 1-minute pitches.
Preliminary programme
| | |
| --- | --- |
| Wed 21 March from 19.30h | Ice breaker at cafe Stempels |
| Thu 22 March | Keynote by Gerd Masselink (University of Plymouth) and Cees Laban (Marine Geological Advice, former Head of Marine and Coastal Research at the Geological Survey of the Netherlands) |
| | Presentations and poster sessions |
| | Excursion: City Walk Haarlem - building stone and coastal geology |
| | Opportunity to see the collection of Teylers Museum |
| | Conference dinner |
| Fri 23 March | Keynote by Carol Cotterill (British Geological Survey) |
| | Presentations and poster sessions |
| | Opportunity to see the collection of Teylers Museum |
| | Best paper and poster awards |
Practical information
The conference will take place at Teylers Museum, Spaarne 16, 2011 CH Haarlem, the Netherlands from 21 to 23 March. Lunches, the conference dinner and the ice breaker will be hosted at nearby cafe Stempels, Klokhuisplein 9, Haarlem. The ice breaker will take place on Wednesday evening from 19:30h.
The fees are:
Full package (including ice breaker, two conference days, excursion and dinner): €200
Single conference day (Thursday or Friday, excluding dinner): € 85
Conference dinner: €45
Register now at www.tno.nl/nckdays2018/!
For people registering early, the Ambassador City Centre Hotel offers standard rooms for € 89 (single occupancy) or € 99 (double occupancy) per night, excluding € 3.25 tourist tax per person per night and including breakfast. Visit www.tno.nl/NCKDays2018 to book your hotel reservation.
We look forward to welcoming you at NCK2018!
Best regards,
The organizing committee


Sytze van Heteren
Ina Vissinga-Schalkwijk
If you have any questions, do not hesitate to contact us (This email address is being protected from spambots. You need JavaScript enabled to view it., +31888662064).