Conference 'The Sand Motor: Five years of Building with Nature'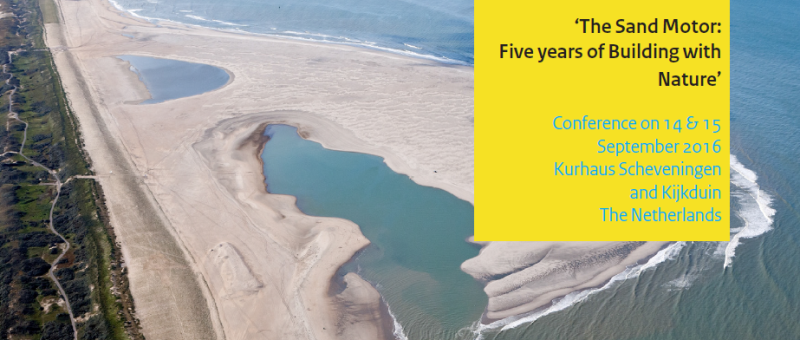 Date
Wednesday, 14 September
-
Thursday, 15 September
Venue
Kurhaus Scheveningen - Gevers Deynootplein 30
2586 CK Den Haag, Netherlands

Five years after the creation of the Sand Motor, the initial research results from this pilot project will be presented. The Sand Motor is a knowledge development project involving government, business, research institutes institutions and non-profit organisations. It will be the central focus of a two-day international conference. There will be speeches, interviews, an exhibition market, workshops and theme excursions looking at areas including morphology, nature and leisure development. The working language during the conference will be English.
Target group
Policymakers, scientists and professionals from the Netherlands and other countries working on different disciplines associated with sandy coasts and 'Building with Nature'.
Conference benefits
Be the first to hear the results and to talk to the researchers
Share knowledge at the national and international levels about 'Building with Nature' solutions for sandy coasts
Get inspiration for your own project
Ideal place for meeting people and networking
See the Sand Motor with your own eyes during an excursion with expert guides
Programme
The congress will be on 14 September in the Kurhaus in Scheveningen. The activities on 15 September will be in Kijkduin.
Wednesday 14 September
Morning
Chair Helga van Leur (Meteorologist and Weather Presenter Dutch National Television)
Presentation of the Key research results by Rijkswaterstaat, Provincie Zuid Holland, Ecoshape and Scientific research programme Naturecoast.
Presentation of the evaluation by international audit team chaired by Henk Ovink (Special Envoy Water Affairs)
Application of the Sand Motor abroad.
Lunch
Expomarket
Afternoon
Six parallell theme-based sessions with experts.
Drinks and dinner follow the official part.
Thursday 15 September
On 15 September experts will guide theme-based excursions on the Sand Motor. Also a programme for the general public will be organised in cooperation with Artists' collective Satellietgroep.
Registration
Would you like to know more about the results obtained with the Sand Motor and possible applications in other locations? Please click here to register or visit the website for more information.
Questions
Should you have any questions, please do not hesitate to contact the organisation via This email address is being protected from spambots. You need JavaScript enabled to view it. or by telephone on +31 (0)30 275 9622.
The Maps Service is not available.