S. Vos1, M. Kuschnerus1, C.van IJzendoorn1, V. di Biase1 and R. Breedveld1
1 TU Delft: E-mail: This email address is being protected from spambots. You need JavaScript enabled to view it., This email address is being protected from spambots. You need JavaScript enabled to view it., This email address is being protected from spambots. You need JavaScript enabled to view it., This email address is being protected from spambots. You need JavaScript enabled to view it., This email address is being protected from spambots. You need JavaScript enabled to view it.
Abstract
Building with nature solutions are increasingly seen as a suitable approach to maintain our coasts with the expected climate change. However these kind of solutions show more natural variations and it is therefore important for the protection of the coasts that these variations are well understood and can be modelled accurately. Erosive processes are reasonably well understood but restorative processes are less well known.
Within the framework of two TU Delft projects (CoastScan and DuneForce) the Scan Experiment 2020 (Scanex2020) is organized in February and March 2020 at the beach in Noordwijk (The Netherlands). With various national and international partners the field work is performed to increase our understanding of the restorative processes on sandy coasts. The main objective of the fieldwork is, to obtain more insight into the hydrodynamic, aeolian and morphological processes, which contribute to shore-ward sand transport and the possibilities of different instruments to measure parts of these dynamics. Specific questions are:
To what extent does short term intertidal sediment exchange govern the long term aeolian sediment transport and dune development?
To what extend do buildings block shore-ward sand transport?
To what extent can different measurement systems like for example laser scanning, satellite data, and specialist in-situ samplers measure the evolution of sea/beach/dune properties (i.e. wave height, surface moisture and roughness, sand grain distribution and aeolian transport)?
A multitude of experiments are set up for a duration of two months, to collect data and obtain more knowledge about the various questions.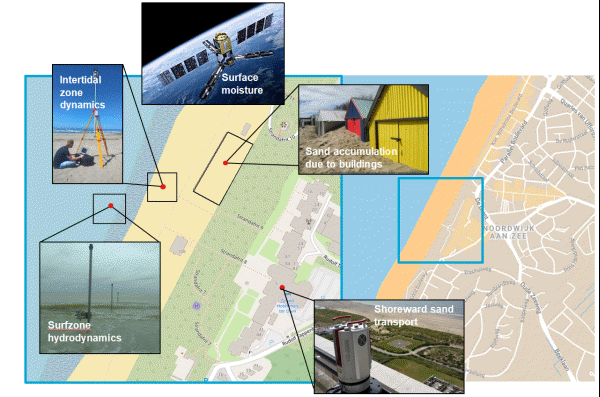 Figure 1 Overview of the Scanex 2020 set-up indicating the different measurements techniques around the beach and dunes near Hotel Huis ter Duin in Noordwijk, NL.