Measuring the coast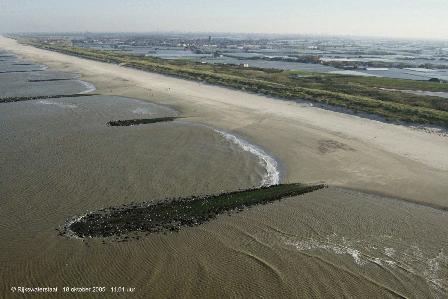 Date
Thursday, 09 December
00:00
Venue
Slag Vlugtenburg
2691 's-Gravenzande, Netherlands

After the recent successful meeting on Modelling the Wadden Sea in Den Helder, jointly organised with the Waddenacademie, we now would like to draw your attention to the Thematic Meeting "Measuring the coast/Meten aan de kust" to be held 9th december, 2010, from 12.30 onwards, start of programme 13.00, end of programme 17.00, with refreshments afterwards.
TU Delft Faculteit Lucht- en Ruimtevaart, Dept. of Remote Sensing and NCK have the pleasure of inviting you for a half-day filled with the latest on measurement techniques and their results on Dutch and some other North Sea coasts.
Themeday NCK "Measuring the Coast' / Meten aan de Kust". No admission fee.
Thursday 9 December 2010, Location. Paviljoen Zeerust, Slag Vlugtenburg, 2691 KX s-Gravenzande. The meeting coincides with the Building with Nature measurement campaign, Monitoring dune compensation Delfland. If weather permits, a demo will be provided.
Time: 13.00 – 17.00 hrs.
Organisation: Roderik Lindenbergh (TU Delft) and Bert van der Valk (NCK/Deltares)
Registration: Please be aware that there is a limit of 80 persons attending. The registration will be on "first come, first served" basis. All welcome, no attendance fee. To register, please send an e-mail to: Jolien Mans.
Subject
Author(s)
Organisation
'Monitoring Dikes from Space' using SAR
Freek van Leijen & Astrid Humme
Hansje Brinker
www.hansjebrinker.net
Integration of remote sensing data with a transport model to monitor turbidity in the Dutch coastal zone
Meinte Blaas
Deltares
Beach deformation measured by Terrestrial Laser Scanning
Sylvie Soudarissanane, Roderik Lindenbergh, Sierd de Vries, Matthieu de Schipper & Bas Arens
TU Delft-LR, TU Delft CiTG / BwN & Arens Duinonderzoek
ARGUS camera- and monitoring post, Eastern Scheldt
Jasper Dijkstra
Deltares
Measurements at sea using shore-based radar
Herman Peters
Rijkswaterstaat-DID
Lidar measurements from a 4WD
Pieter van Waarden & Kees Boogaard
Rijkswaterstaat-DID
Shallow seismics on land / 3D seismics at sea
Marco de Kleine & Sytze van Heteren
Deltares & TNO
Multifrequency Echo Sounding and offshore GPR measurements in fjord lakes
Joep Storms, Ilja de Winter & Adriaan Janszen
TU Delft, Department of Geotechnology
Drinks afterwards