Netherlands Centre for Coastal Research

STT en Deltares nodigen u van harte uit voor het symposium De Toekomst van Oceanen op 20 juni a.s.. In een divers programma wordt stilgestaan bij de vraag: hoe ziet de oceaan van de toekomst eruit? Hoe kan de oceaan onze bondgenoot worden in de voorziening van natuurlijke hulpbronnen (voedsel, grondstoffen, energie), klimaatverandering en zelfs om te wonen op het water? Het symposium wordt afgesloten met de overhandiging van het boek 'Een oceaan vol mogelijkheden', aan Hans Huis in 't Veld (boegbeeld Topsector Water), dat alle deelnemers cadeau krijgen. Voor meer informatie over het programma, zie de eventpage.
U kunt zich tot uiterlijk 14 juni aanmelden door een mail te sturen naar This email address is being protected from spambots. You need JavaScript enabled to view it..
De conferentie wordt gehouden bij Deltares in Delft (Boussinesqweg 1, Delft).
Meer informatie over de toekomstverkenning leest u op de STT website.
Check out the Job offers page to see the latest job offers. There are 2 vacancies at Rijkswaterstaat and one at NIOZ for a tenure track position.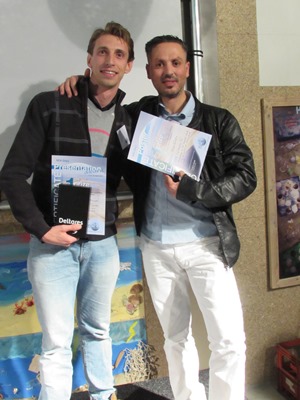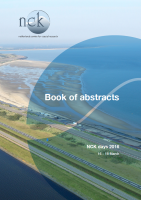 We are looking back on a successful edition of the NCK days and would like to thank you all for your presence and contribution! The presentations and posters were interesting, which was also reflected in the distribution of the votes for the best paper and poster. We congratulate Matthieu de Schipper (best presentation, left) and Abdel Nnafie (best poster, right) with their achievement. Bert van der Valk and Frans Beekman guided us along the beach and dunes of Westenschouwen with nice stories, which made the field trip very pleasant and the sun did the rest! We would like to thank Deltares for organising this edition of the NCK days.
If you would like to read the abstracts: the book of abstracts is now also available online!