Stephanie Janssen1,2*, Leon Hermans2,3, Heleen Vreugdenhil1,2
1 Deltares, Marine and Coastal Systems, Delft, the Netherlands
2 TU Delft, Technology, Policy and Management, Delft, the Netherlands
3 IHE Delft, Integrated Water Systems and Governance Department, Delft, the Netherlands
* corresponding author: This email address is being protected from spambots. You need JavaScript enabled to view it.; 0031-6-20779589
Introduction
By including foreshores in flood risk reduction strategies, actual safety levels are better understood, while safety issues and dike construction costs may be reduced. Moreover, dike authorities are legally bound to consider foreshores and enter into agreements with neighbouring stakeholders. Nevertheless, dike-foreshore coalitions do not occur naturally. Diverging stakeholder interests and responsibilities, and historical factors often lead to fragmentation in dike-foreshore management inhibiting joint action. Along the Friesland Waddensea coastline, POV-Waddenzeedijken1 (POV-W) initiated a research project aimed at improving dike-foreshore cooperation using innovative approaches.
Methods
Recognizing the challenge of dike and foreshore cooperation, BE SAFE2, developed a participatory tool to help stakeholder establish the added value of joint action. This tool is informed by the theory of cooperative games which provides concepts to assess the value of cooperation and ways to distribute the gains. In cooperation with POV-W, this tool was applied in the region 'Noard-Fryslân Bûtendyks' in the period April - October 2018.
Results
Two workshops were organised in July and October, in which five local stakeholders participated. After an excursion and sharing ambitions and current work methods, stakeholders explored potential joint dike-foreshore initiatives in the first workshop. A total of 8 opportunities for cooperation were identified. Each stakeholder valued these opportunities, by indicating whether achieving their (organisational) goals would become easier or more difficult when opportunities were to be realised. Researchers analysed these values and reported the results in the second workshop (see figure). Based on the analyses stakeholders defined two cooperative pilots and started working on a shared vision.
Application of the participatory tool 'added value of joint action' resulted in joint dike-foreshore initiatives. At the same time lessons for tool improvement were learned.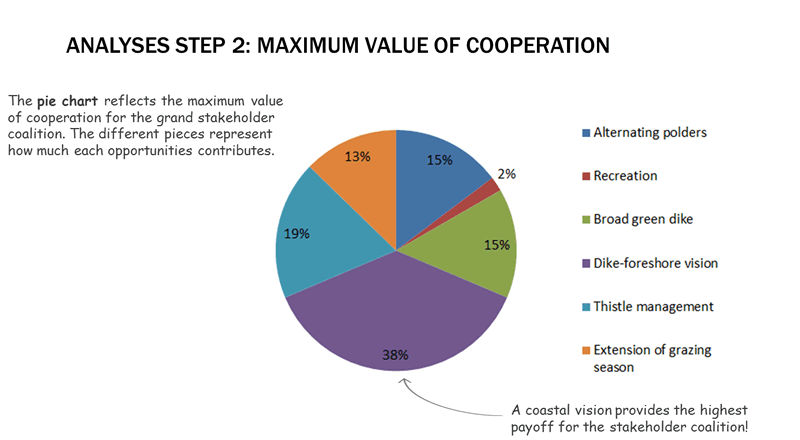 ---
1 The 'Project Overstijgende Verkenning' Waddenzeedijken comprehends 12 research projects for innovative dike concept along the Waddensea. More info: pov-waddenzeedijken.nl/
2 An interdisciplinary NWO supported project aimed at how and how much foreshores can contribute to flood risk reduction. More info: www.citg.tudelft.nl/be-safe