Three mega-nourishments along the Holland dune coast: a first comparison and appraisal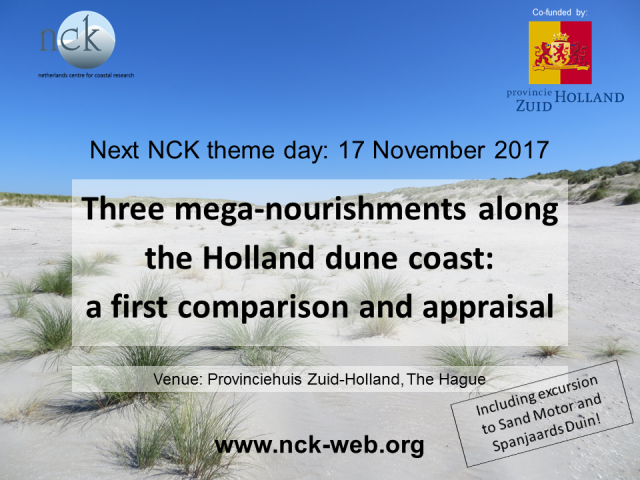 Venue
Zuid Hollandplein 1
2596 AW Den Haag, Netherlands

NCK theme day on Friday 17 November 2017: Three mega-nourishments along the Holland dune coast: a first comparison and appraisal
Summary of the day
For the first time, the effects on dunes at the locations of three "mega" nourishments were compared and appraised. The three nourishments-cum-coastal extensions are, from south to north: Spanjaards Duin (6,6 Mm3 since 2009), the Sand Motor (21,5 Mm3 since 2011) and the Hondsbossche Dunes (40 Mm3 since 2014). Some 12 presenters at the NCK theme day brought their experiences in the political context, morphology and ecology of these projects to the attention of the > 50 heads of public (see link to the presentations in the programme below). Discussions were held to compare the monitoring outcomes of the different sites. Comments were made by the public also in the relation to the effects and to the design of the different nourishments as reasons for the observed differences. In the afternoon we made an excursion to Spanjaards Duin and the Sand Motor in close vicinity of The Hague for hands-on experience. We were very lucky with the weather, and enjoyed the sight of dune development taking place. The common feeling was that in future more meetings will be needed to handle the subject of sediment dispersal into the dunes. Many thanks are due to the Province of South-Holland (Ben Girwar) for providing the venue for the morning session, the catering and the bus transport.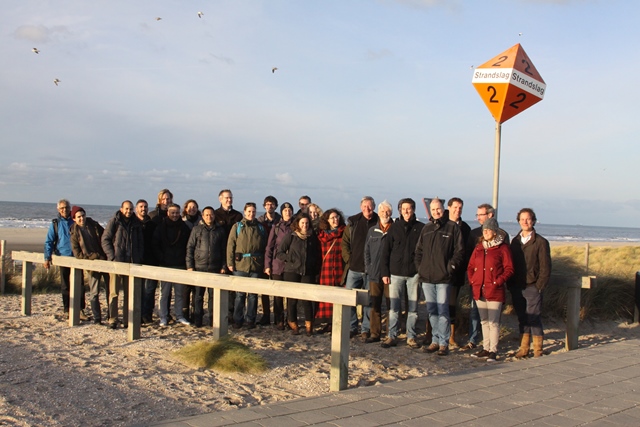 ---------------------------------------
Orginal announcement below
Context
The first evaluation of the Spanjaards Duin nature compensation project is approaching in 2020, the Sand Motor has had its first five-year evaluation in 2016, and the Hondsbossche Duinen project is now in place for almost three years. So far, however, sharing of experiences and insights between these three dune development projects has been limited.
Aim
This is a good opportunity to organize an NCK theme day on dune development. During this event, we aim to bring together the NCK and the dune community to compare insights of the three projects described above. Also, the event will facilitate exchange of knowledge between coastal researchers, dune management, industry and stakeholders on geomorphological and ecological processes in Dutch dune systems and the influence of sand nourishment thereon.
Programme
Location: Provinciehuis Zuid Holland, Zuid Hollandplein 1, 2596 AW Den Haag
Registration: There are still some seats available during the morning program. The bus to the excusion is full, but if you have your own transport (or arrange to carpool with other participants), you can also attend the excursion. If you didn't register yet and would like to attend the theme day, please contact This email address is being protected from spambots. You need JavaScript enabled to view it. before Wednesday 15th of November.
Organization and contact: Organizing Committee: Bert van der Valk (chair, Deltares), Kathelijne Wijnberg (Universiteit Twente) and Sierd de Vries (TU Delft); Stéphanie IJff (Deltares)
The event is sponsored by the province of South-Holland and the Netherlands Centre for Coastal Research.