J. Wallinga1*, D. Goldsborough2, R. Witbaard3, B.C. van Prooijen4, A.F.J. van der Spek5, E. Elias5, Q. Lodder6, A.M. de Boer1, T. Kooistra3, S.G. Pearson4
1 Wageningen University, This email address is being protected from spambots. You need JavaScript enabled to view it.; This email address is being protected from spambots. You need JavaScript enabled to view it.
2 Van Hall Larenstein, This email address is being protected from spambots. You need JavaScript enabled to view it.
3 NIOZ, This email address is being protected from spambots. You need JavaScript enabled to view it.; This email address is being protected from spambots. You need JavaScript enabled to view it.
4 TUDelft, This email address is being protected from spambots. You need JavaScript enabled to view it.; This email address is being protected from spambots. You need JavaScript enabled to view it.
5 Deltares, This email address is being protected from spambots. You need JavaScript enabled to view it.; This email address is being protected from spambots. You need JavaScript enabled to view it.
6 Rijkswaterstaat, This email address is being protected from spambots. You need JavaScript enabled to view it.
Problem statement
Sand nourishment is now the preferred coastal management strategy in the Netherlands to prevent coastal erosion and drowning of intertidal areas of the Wadden Sea. Nourishments aim to enhance safety, while simultaneously promoting natural and recreational values. However, it is poorly understood how nourished sand is dispersed, and what the impacts are for diverse coastal functions like biodiversity, fisheries and safety.
Aim and objectives
The overall aim of our recently started TRAILS project is to develop, test and apply the instrumentation needed to predict effectiveness and off-site responses to (mega-)nourishments. Main objectives are:
To create a fully operational Living Lab with all stakeholders to co-evaluate future nourishment strategies, based on a shared knowledge base (lead VHL).
To develop and test novel luminescence-based methods to identify sand grains derived from a nourishment source and illuminate sediment pathways (lead WUR).
To determine the effects of nourishments on benthic fauna, and identify and quantify the feedback mechanisms of the benthic community on sediment dispersal (lead NIOZ).
To develop and test novel simulation approaches to trace pathways of different sediment types and predict sediment dispersal and morphodynamic responses to different nourishment strategies (lead TUDelft).
To integrate insights gained from stakeholder, field and model approaches (lead Deltares).
We will focus on the recent Ameland inlet ebb-tidal delta nourishment (Fig. 1), which provides a unique opportunity to develop and test novel methods and to connect to stakeholders in this dynamic environment.
Funding and timeline
TRAILS is NWO funded through the 'Living Labs in the Dutch Delta' programme (Grant 17600). Research will be performed by two PhD candidates (WUR & NIOZ), a postdoc (TUDelft), their supervisors, and staff members of VHL and Deltares. The project has started late 2020 and is scheduled to be completed in 2025.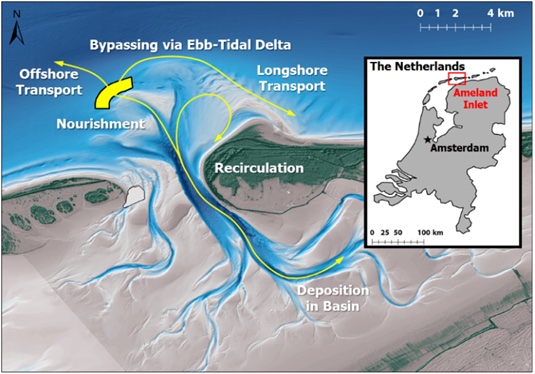 Figure: The location of the ebb-tidal delta nourishment within our Living Laboratory, with possible sediment transport pathways indicated.