NCK days 2018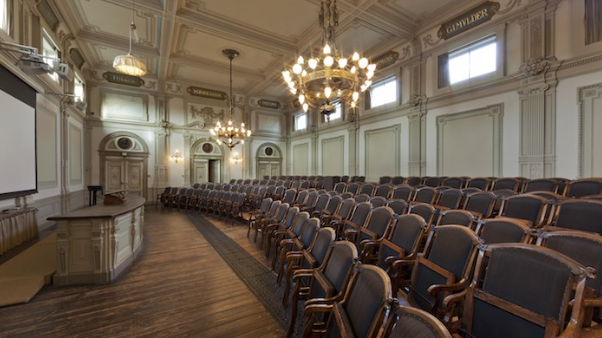 Date
Wednesday, 21 March
-
Friday, 23 March
Venue
Teylers Museum - Spaarne 16
2011 CH Haarlem, Netherlands

The book of abstracts is now available

here!
---------------------------------------------------------------------
The annual NCK Conference will be held from Wednesday to Friday March 21-23, 2018 at Teylers Museum in Haarlem, the Netherlands. The 2018 NCK Days will be hosted by TNO - Geological Survey of the Netherlands as part of its 100-year mapping anniversary. The theme of the meeting is 'Geo-logic in coastal and shelf research: a matter of multi-disciplinarity'.
On Wednesday, the 21th of March, an sprint session will be organised on valuable data avaiable in DINOloket, EMODnet and Open Earth. Read more and register (free of charge) at this event page!
Preliminary program
There are time slots for over 40 oral presentations of 7 minutes each. Questions from the audience will be answered during the time slot at the end of each session. There will be separate a Thursday and a Friday poster session, each preceded by 1-minute pitches. To make everything go smoothly and ensure that there are no mishaps with video, audio, animations or other fancy effects, we request the presenters to send their PowerPoint presentation for testing by Wednesday March 21 at 13:00 h.
March 21
16.00-20.00
Sprint session DINOloket, EMODnet and Open Earth by Jelte Stam, Denise Maljers and Gerben de Boer
20.00-22.30
Icebreaker at Restaurant ML, Klokhuisplein 9 (formerly cafe Stempels)
March 22
09.00-09.29
Registration
09.30-09.44
Opening Tirza van Daalen and Michiel van der Meulen
Session 1 - BEACH AND BARRIER BEHAVIOR
09.45-10.25
Keynote 1 - Gerd Masselink (University of Plymouth): Variability In The North-East Atlantic Wave Climate And Its Influence On Annual-To-Decadal Beach Dynamics
10.26-10.33
Koen Reef: Long-Term Morphological Behavior Of Barrier Coasts: Influence Of Storm-Induced Breaches Using Stochastic Modelling
10.34-10.41
Max Radermacher: Long-Term Evolution Of Subtidal Sandbars At The Delfland Coast Under The Influence Of Repeated Nourishments
10.42-10.49
Daan Wesselman: The Morphological Development Of Rottumeroog During A Stormy Winter
10.50-10.56
Questions
10.57-11.09
Poster pitches
11.10-11.39
Coffee break and poster session
Session 2 - VEGETATION AS A DRIVER AND RECORDER OF COASTAL PROCESSES
11.40-11.50
Valérie Reijers: The Dance Of Ammophila: On How Individual Movement Patterns Control The Formation Of Coastal Dunes
11.51-11.58
Marinka van Puijenbroek: Raising The (Subtidal) Bar For Embryonic Dune Growth And Survival
11.59-12.06
Stephanie IJff: How Seabed Sediments Are Transformed Into A New Dune Slack: The Case Of Spanjaards Duin, Delfland Coast
12.07-12.14
Muriel Brückner: Effects Of Biological Traits On Salt-Marsh-Species Distribution And Estuarine Bar Morphology
12.15-12.22
Sanja Selakovic: Sediment-Stabilising And -Destabilising Ecoengineering Species From River To Estuary: The Case Of The Scheldt System
12.23-12.30
Stephanie Janssen: Implementation Of Vegetated Foreshores For Flood-Risk Reduction: Dealing With Social Dilemmas
12.31-12.38
Patrick Kiden: Reconstructing Long-Term Sea-Level Rise For The Northern Netherlands
12.39-12.53
Questions
12.54-13.59
Lunch
14.00-16.30
Geological city walk and Teylers Museum Visit / Coffee break and poster session
Session 3 - THE MARINE SUBSURFACE
16.31-17.01
Keynote 2 - Carol Cotterill (British Geological Survey): Evolution Of The Dogger Bank, North Sea: A Complex History Of Terrestrial And Marine Environmental Change
17.02-17.09
Bart Meijninger: Geology Of The Borssele Offshore Windfarm Zone
17.10-17.17
Harm Jan Pierik: Effects Of Inherited Resistant Layers On Shape And Long-Term Evolution Of The Eems-Dollard Estuary
17.18-17.25
Marc Hijma: Subsidence Along The Dutch Coast
17.26-17.33
Freek Busschers: The Stuff A Harbor Is Made Of: Ancient And Recent Sand From The Maasvlakte 2 Pit
17.34-17.44
Lars Kint: Incorporating Data Uncertainty In 3D Voxel Modelling And The Importance In Decision Making
17.45-17.55
Questions
19.00-21.30
Conference dinner
March 23
Session 4 - MONITORING THE COASTAL ZONE
09.00-09.30
Keynote 3 - Cees Laban (Marine Geological Advice, former Head of Marine and Coastal Research at the Geological Survey of the Netherlands): Fifty Years Of Marine Geological Mapping In The Dutch Part Of The North Sea
09.31-09.38
Stefan Aarninkhof: Coastline Observatory To Examine Coastal Dynamics In Response To Natural Forcing And Human Interventions
09.39-09.46
Bram van Prooijen: Kustgenese 2.0/Seawad - Ameland Inlet Field Campaign
09.47-09.54
Roeland de Zeeuw: Quick Reaction Force Ameland Noordwest: First Results
09.55-10.02
Matthijs Gawehn: Real-Time Estimation Of Ebb-Tidal-Delta Bathymetry Using Navigational X-Band Radar
10.03-10.10
Yvonne Smit: Spatiotemporal Surface Moisture Dynamics On A Coastal Beach
10.11-10.18
Cas van Bemmelen: Beach Scarp Morphodynamics
10.19-10.26
David Barmentloo: Analysing Large-Scale Differences In Long-Term Morphologic Behaviour Along The North Sea Coast
10.27-10.41
Questions
10.42-10.55
Poster pitches
10.56-11.20
Coffee break and poster session
Session 5 - COASTAL SEDIMENT TRANSPORT
11.21-11.31
Stuart Pearson: Sediment Transport Patterns On Ameland Ebb-Tidal Delta Determined By Dual-Signature Sediment Tracers
11.32-11.39
Glenn Strypsteen: Aeolian Sediment Transport Processes In A Managed Beach-Dike System
11.40-11.47
Evelien Brand: Measuring Suspended Sediment Transport In The Intertidal Zone Of A Macro-Tidal Beach (Mariakerke, Belgium)
11.48-11.55
Erik van Onselen: Promoting Beach-Dune Interaction In The Presence Of Man-Made Obstacles
11.56-12.03
Kirstin Schultz: Unraveling The Decisive Factors For The Transport Of Sediment As A Supply For Salt-Marsh Growth
12.04-12.14
Questions
Session 6 - SAND-WAVE FIELDS
12.15-12.22
Janneke Krabbendam: Modeling The Evolution Of Observed Tidal Sand Waves In The North Sea
12.23-12.30
Chiu Cheng: Small-Scale Variations In Sediment Characteristics Over The Different Morphological Units Of Tidal Sandwaves Offshore Of Texel
12.31-12.38
Rick de Koning: A Classification Method For The Presence Of Tidal Sand Waves And Maintenance Dredging Design
12.39-12.46
Jane Zhou: Modelling Sand-Wave Fields On The Taiwan Banks, Northern South China Sea: The Formation Of Two-Scale Sand Waves In Different Periods
12.47-12.55
Questions
12.56-13.59
Lunch
Session 7 - COASTAL MORPHODYNAMICS AND ESTUARINE HYDRODYNAMICS
14.00-14.10
Anna Kroon: The Importance Of Uncertainty Assessment In Morphology Predictions
14.11-14.18
Ahmed Elghandour: Efficient Modelling Of Coastal Evolution: Development, Verification And Validation Of Shorelines
14.19-14.26
Bart Roest: The Influence Of The Sand Engine On The Delfland Coastal Cell
14.27-14.34
Merel Verbeek: Measuring Two-Scale Flow Response To Resistance At Tidal Turbines In The Eastern Scheldt
14.35-14.42
Long Jiang: Modeling Residence Time Of The Eastern Scheldt
14.43-14.50
Yorick Broekema: Positive Feedback Through Three-Dimensionality Of The Flow: Enhancement Of Scour Potential At The Eastern Scheldt Storm-Surge Barrier
14.51-15.03
Questions
15.04-15.30
Coffee break and poster session
Session 8 - ESTUARINE MORPHODYNAMICS
15.31-15.41
Cynthia Maan: Morphodynamic Feedback Loops Control Stable Fringing Flats
15.42-15.49
Steye Verhoeve: Rapid Morphology Assessment For Estuaries
15.50-15.57
Abdel Nnafie: Morphodynamic Impact Of Sea-Level Rise On The Western Scheldt Estuary And Its Mouth Region: Insights From An Idealized Modeling Study
15.58-16.05
Ana Colina Alonso: Unravelling The Mechanisms Behind The Morphodynamic Evolution Of The Haringvliet Ebb-Tidal Delta
16.06-16.13
Jana Cox: Effects Of Dredging And Dumping In Laboratory Scale Experiments Of Estuaries
16.14-16.24
Questions
16.25-16.45
Awards and closure
Practical information
The conference will take place at Teylers Museum, Spaarne 16, 2011 CH Haarlem, the Netherlands from 21 to 23 March. Lunches, the conference dinner and the ice breaker will be hosted at nearby Restaurant ML, Klokhuisplein 9, Haarlem. The ice breaker will take place on Wednesday evening from 20.00h.
Note that Restaurant ML has 2 locations in Haarlem, at the Kleine Houtstraat and at the Klokhuisplein. The Klokhuisplein location was very recently renamed from cafe Stempels into Restaurant ML.
The fees are:
Full package (including ice breaker, two conference days, excursion and dinner): €200
Single conference day (Thursday or Friday, excluding dinner): € 85
Conference dinner: €45
Register now at www.tno.nl/nckdays2018/!
For people registering early, the Ambassador City Centre Hotel offers standard rooms for € 89 (single occupancy) or € 99 (double occupancy) per night, excluding € 3.25 tourist tax per person per night and including breakfast. Visit www.tno.nl/NCKDays2018 to book your hotel reservation.
We look forward to welcoming you at NCK2018!
Best regards,
The organizing committee


Sytze van Heteren
Ina Vissinga-Schalkwijk
If you have any questions, do not hesitate to contact us (This email address is being protected from spambots. You need JavaScript enabled to view it., +31888662064).