NCK Days 2020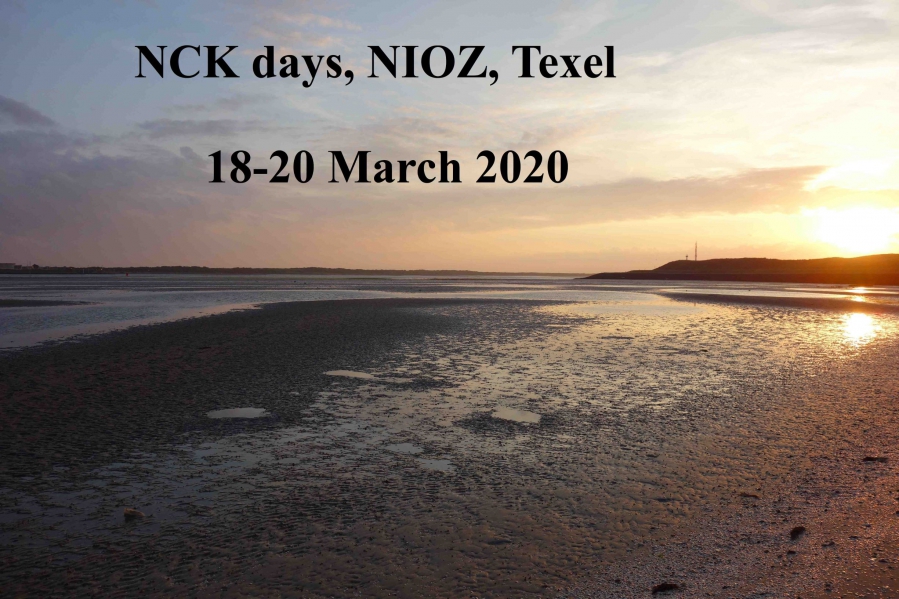 Date
Wednesday, 18 March
-
Friday, 20 March
General information
You are all invited to join the NCKdays 2020! They will take place on March 19 and 20 at NIOZ Royal Netherlands Institute for Sea Research on the island of Texel. This year, we kick off the NCK days with an excursion to the Prins Hendrik Zanddijk on Wednesday afternoon, March 18. After the excursion you may join the hands-on sprint session on the field data collected during the SEAWAD project. The icebreaker will also be on Wednesday, from 20.00-22:00 hours in Hotel-restaurant De Lindeboom, Den Burg. The program on Thursday and Friday will be filled with interesting key notes, oral and poster sessions, and of course ample time to catch up with your colleagues. When you register you can indicate which parts of the program you will join. More details on the program can be found further below.
Call for abstracts
We would like to invite you to share the results of your research or project to the NCK community! Please submit an abstract of your research or project. The abstract should be only 1 A4 page, and should be written in

this template. Sent you abstract to This email address is being protected from spambots. You need JavaScript enabled to view it. before the deadline for abstract submission on Friday 31st of January, 2020. With the submission, let us know if you have a preference for an oral presentation or a poster and indicate to which of the following sessions you talk would fit best:
Abiotic-biotic relationships
Shoreface dynamics
Estuaries and tidal basins
Aeolian transport and dunes
Sea-level change and coastal management
Registration and fee
To register for the NCK days 2020 a link will be available soon. After you have filled in the form, you will receive an e-mail to pay by IDEAL or credit card. Be sure to pay your fee, because your registration is only complete after we have received your payment. This year, conference fees are € 125 for the full conference (excluding lodging)!
Venue
NIOZ is located directly next to the ferry on the island of Texel (view in Google Maps). It takes only a 5-minute walk to reach the main entrance.
The TESO ferry leaves Den Helder on an hourly service at every 30 minutes past the hour (XX:30 h.). The crossing from to Texel takes only 20 minutes. Detailed information about the tickets and time-tables can be found on the TESO website.
Overnight stay
If you want to stay overnight, you are kindly asked to make your own arrangements. We do recommend the following hotels:
Hotel De Lindeboom, Den Burg
www.lindeboomtexel.nl | 0222-312041 |

This email address is being protected from spambots. You need JavaScript enabled to view it.


Room Classic Twin € 82,52* p.r.p.n.
Room Comfor Twin € 87,50* p.r.p.n.
Room Deluce Twin € 92,50* p.r.p.n.
Hotel De Pelikaan, De Koog
www.depelikaan.nl | 0222-317202 |

This email address is being protected from spambots. You need JavaScript enabled to view it.


Standard room € 69,50* p.r.p.n (2 nights)
* The prices are based on single use, breakfast is included, local taxes are excluded.
Note 1: We took an option on a limited amount of rooms in these hotels. For De Lindeboom the option expires on February 29, for De Pelikaan the option expires February 14.
Note 2: The room can be booked via email or phone, please mention "NCKdagen NIOZ".
Bus transport
We arrange bus transport after the Icebreaker to Hotel De Pelikaan and De Koog on Wednesday evening; the route De Koog-Pelikaan-Den Burg-NIOZ on Thursday and Friday morning, and conversely on Thursday evening after the conference dinner. Please indicate during registration whether you want to use this special bus service.
NB: if you book a hotel that is not located along this route, then please arrange your own transport!
Book of Abstracts
To reduce our carbon footprint, we will no longer be handing out hardcopies of the Book of Abstracts during the NCK Days. You can easily view each individual abstract online, by clicking on the corresponding title in the program once it becomes available at the NCK website. Also, the full Book of Abstracts as PDF will be made available via the NCK website.
Preliminary program
Wednesday, 18 March
13:30-15:30
Excursion Prins Hendrik Zanddijk (start & end at NIOZ entrance)
15:30-17:45
Workshop SEAWAD data (Noordzeezaal, NIOZ)
20:00-22:00
Icebreaker at Hotel-restaurant De Lindeboom, Den Burg
22:00
Bus transport from Den Burg Elemert to De Koog (via Hotel Pelikaan)
Thursday, 19 March
08:30
Bus transport from De Koog, via Hotel Pelikaan, Den Burg Elemert (8:45), to NIOZ (9:00)
09:00-09:30
Registration and coffee
09:30-09:40
Opening of the NCK Days by Dr. Theo Gerkema
Session Estuaries and Tidal Basins
09:40-10:10
Ulf Gräwe (IOW, Warnemünde) – keynote
10:10-12:45
Presentations and poster pitches
12:45-14:15
Lunch and posters
14:15-16:00
Session Abiotic-Biotic relationships
16:00-17:00
Session Aeolian transport and dunes
17:00-18:00
Drinks
18:00-20:00
Conference dinner
20:15
Bus transport from NIOZ to Den Burg Elemert and De Koog (via Hotel elikaan)
Friday, 20 March
08:30
Bus transport from De Koog, via Pelikaan, Den Burg Elemert (8:45), to NIOZ (9:00)
09:15-12:30
Session Shoreface Dynamics
12:30-14:00
Lunch and posters
Session Sea-level change and coastal management
14:00-14:30
Aimée Slangen (NIOZ) - keynote
14:30-15:15
Presentations
15:15-15:30
Awards and closure
Excursion to Prins Hendrik Zanddijk (Wednesday)
The Prins Hendrikdijk at the southeast coast of Texel has recently been reinforced in an innovative way and turned into the Prins Hendrik Zanddijk, involving a seaward sandy extension with dunes and marshes. This has brought the dike in agreement with present safety standards, while creating new habitats. Mr Joël Verstoep (HHNK) will be the guide during this excursion.
The excursion will start and end at NIOZ, and will involve two half-hour walks.
Overview of deadlines
Abstract submission: 31st of January
Hotel registration: Options at recommended hotel expire at 14 and 29 February
Conference registration: Sunday March 1
Organisation
This edition of the NCK days is organized by Theo Gerkema and Nina Aalberts from Royal Netherlands Institute for Sea Research (NIOZ). If you have any questions, you can contact them by email: This email address is being protected from spambots. You need JavaScript enabled to view it.. The NCK days 2020 are co-financed by NWO/ENW.